We recently took a trip to the newly built and impressive Real Aero Club de Santiago in Galicia, España to review the New Vice Golf ball range. In Part I of our two part review we will be giving you some background into the innovative company and the balls they offer, with Part II providing an in depth review of how they performed.
Vice Golf was founded in Germany by Ingo Dullmann and Rainer Stoeckl, and their business concept is a fantastic one. They want to provide players with a great quality product without the added retail costs that are usually incurred. This means the perfectly German engineered balls are only available online and direct to you.
The balls that Vice produce are the PRO, PRO+, TOUR and DRIVE models all of which are designed with a different type of player in mind, we will review them in more detail along with a overview of all the models in Part II but for now here is a taste into the Vice Golf World.
If you haven't heard or seen of Vice Golf in your local pro shop here is the reason why, Vice want to provide a high quality ball without the added retail costs being passed onto the customer. Below is a model of the production line that Vice balls take, and you can clearly see they simply pass on the cost of production to the customers and, well cut out the middle man.
This is something that a lot of golfers will love to hear, as many have to settle for cheaper or poor quality balls or even worse, balls they find or that have been refurbished. The problem with this is that they are often damaged and this has a negative effect on the performance of the ball.
Vice wanted to change this and have done so brilliantly, these balls are great quality at a great price and a testimony to the brand, they feel as good if not better than the top named brands currently in the market and certainly worth a try!
One thing I did love about the Vice Ball range was the packaging, I know they say you shouldn't judge a book by its cover but if the content is as good as the packaging, then why not?
The striking designs are like no other brand out there and the concept and packaging has certainly had a lot of time taken over it. It is refreshing to see that Vice have taken the time to produce something that is ascetically pleasing as well as a great performer, and have taken a lot of time and effort in their design process.
You can find out more about their business concept and the technology behind the balls at WWW.VICEGOLF.COM.
There is a Vice Golf ball to suit every player and they are certainly all worth a try. If you are not sure which one may suit you they do offer a selected package online where you can try out all the models to see which suits you best.
We have included an introduction to the Vice Golf ball range in this review, with more details coming soon. So have a read and let us know what you think so far ......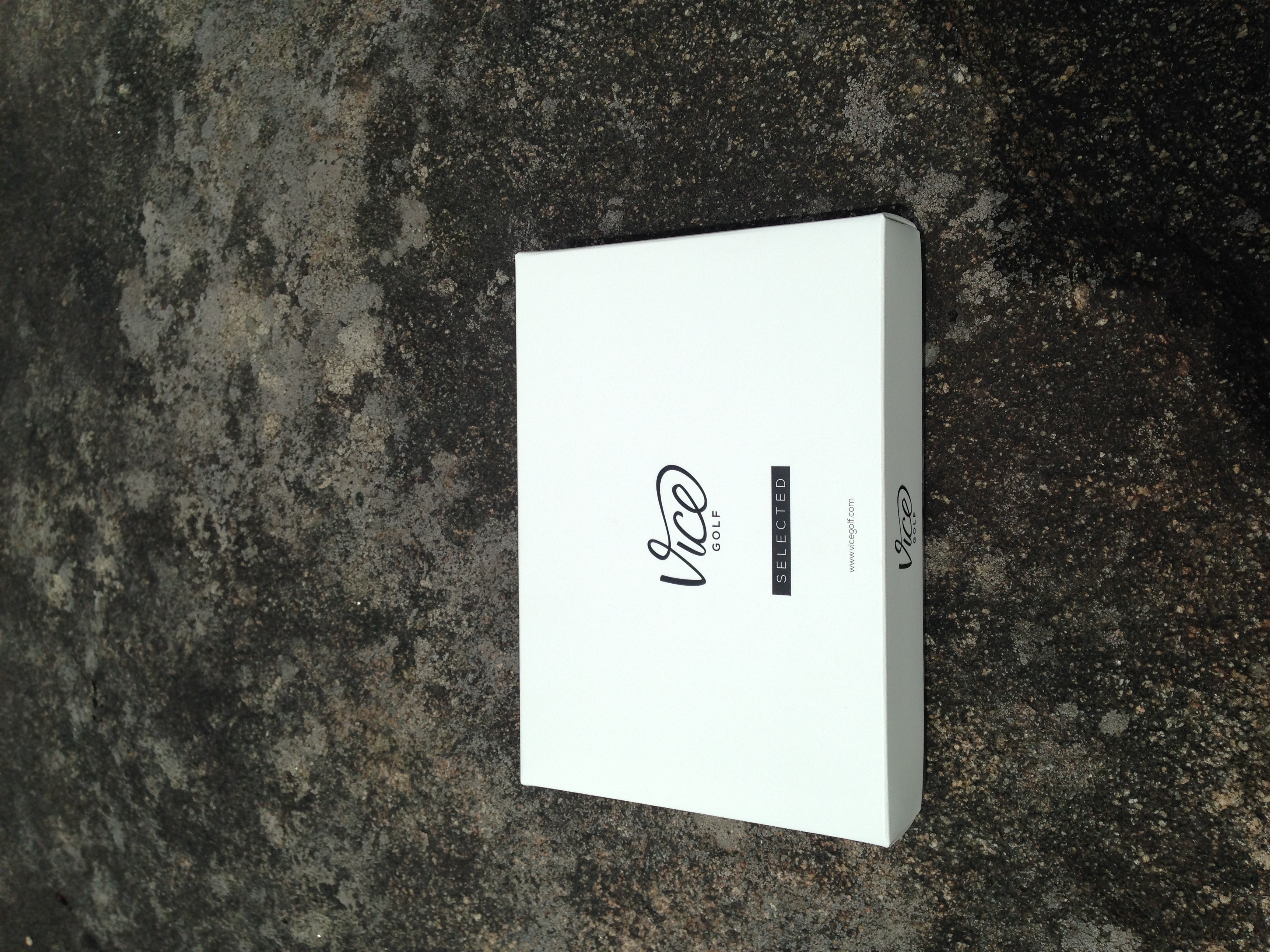 VICE PRO - RRP

£29.88 (DOZ)
The Pro is a 3 piece ball with a cast Urethane cover which is designed for a gentle yet responsive feel. It incorporates a 318 large dimple pattern which is designed for a more stable and controlled ball flight.
The Pro model is aimed at mid to low handicapped players with mid-high swing speeds, this is simply due to the softness and characteristics of the ball. If your swing speed doesn't warrant this type of ball you could end up loosing distance off the tee, so make sure you know what your swing speed is before choosing a ball.
The Pro is a great feeling ball that plays as good if not better than those that currently dominate the market, but at a much more reasonable price.
Vice have designed the multi-layered 3-piece ball specifically for golfers with moderate (> 120 km/h with 7 iron) to high clubhead speeds (>140 km/h with 7 iron) and those who demand great feel and distance control during the short game.

The Pro has been designed with great attention to detail and Vice are setting new standards in terms of performance in relation to affordability. The Vice Pro meets the highest requirements and also conforms to all USGA and R&A standards, this ball is not just cheaper than others it performs as well as they do too.
The Pro feels fantastic off the club face and will be hard to beat by any brand, the ball flight is great on all shots and the short game distance control is up there with the best.
The Vice Pro model is appropriate for players who may have used the following balls:

- Titleist Pro V1
- Srixon Z-Star
- Nike 20XiS
- Nike Tour One
- Callaway HEX Chrome
- Callaway Tour i(s)
- Bridgestone B330 RX & RXS
- TaylorMade Penta TP5
- Wilson Staff FG Tour
The Pro also comes in Neon yellow, which offers the same characteristics as the white model and performs exactly the same. So if you want the feel of the Pro but the bright Neon colour, its worth a go!!
OUR RATING 10/10
VICE PRO+ - RRP
£29.88 (DOZ)
The Pro+ is a 4 piece ball, that offers longer distance and a little firmer feel than the Pro model. It is the newest in the range and designed for players with high club head speeds that struggle to control spin rates of the tee. The flight and launch is generally lower overall but the feel is not compromised around and on the greens.
The Pro+ incorporates a 336 smaller dimple design to encourage a lower and more consistent ball flight and launch angle.
The Pro+ produced less spin off the driver but performed extremely well around the greens and inside 100 yards. The ball flight and launch was a little lower and more penetrating with the driver, and it is a great ball for those who struggle to reduce the spin off the tee.
The Pro+ is specifically designed for golfers with moderate to high clubhead speeds of around 75-90 mph with a 7-iron, and is perfect for those players who want great feel and distance control around the greens as well as exceptional distance off the tee.
Off the tee this ball is hard to beat, the feel is amazing and there is no compromising on feel for shorter shots or when putting.
The VICE Pro Plus compares to the following balls (but at a fraction of the price):

- Titleist Pro V1x
- Srixon Z-Star VX
- Nike RZN Black / Platinum
- Callaway SR 3 / SR 2
- Bridgestone B330 RX and RXS
- TaylorMade TP X
- Wilson Staff FG Tour
The Pro Plus is a great all around ball that feels brilliant around the green and the lower launch angle and controlled spin rates will appeal to many big hitters.
OUR RATING 10/10
VICE TOUR - RRP

£19.08 (DOZ)
The Vice Tour is a 3 piece ball with a DuPontTM Surlyn® cover, it is extremely durable and offers a 392 dimple design for more stability.
It is aimed at players of all levels and helps to optimise a constant and stable ball flight. The Tour is long off the tee with good green side control and feel off the putter.
The tour is not as soft and responsive as the Pro and Pro+ models but still provides good levels of control on the greens. It feels great off the tee and is long too, I got a lot more roll on the fairway than I did with the other models and a few extra yards, which is always nice. This ball is a big contender in its field and I would say one of the best out there at the moment.
It is perfectly fitted to medium club head speeds of around 75 to 85 mph with 7 iron.
The model Vice Tour is similar to the :

- Titleist NXT Tour/Tour S
- Srixon Trispeed
- TaylorMade Penta TP3
- TaylorMade Rocketballz
- Callaway HX Diablo Tour
- Bridgestone E7
- Nike One Vapor Speed
- Top Flite Gamer v2
- Wilson Staff C25
OUR RATING 9.5/10
VICE DRIVE - RRP

£13.08 (DOZ)
The Vice Drive is the firmest model in the range, it offers a 2 piece 368 symmetrical dimple design with a tough DuPontTM Surlyn® cover. This does not mean to say it is like playing with a rock like some other distance balls, as it still also performs extremely well around the green and feels good off the club face.
It does feel a little firmer than the other models but remember it is designed for players who are searching for a little more distance off the tee, with a low to medium club head speed.
I did notice when I tested the Drive that it rolled a lot further on the fairway and also didn't grab up as much on the green, but the feel off the putter face and with wedges was still great.
The Drive is the distance golf ball Vice offer and it has been designed for serious amateur golfers. The ball focuses on low to medium club head speeds of around 60 to 80 mph with 7 iron.
Give the Vice Drive a go if you like the following balls :

- Titleist DT Solo
- Callaway Warbird
- Callaway HEX Diablo
- Wilson Staff D25
- Bridgestone E6
- Top Flite D2
The extra-long and highly significant Keep in Line (KIL)-putting line is a feature on all the balls in the Vice Golf range, which can also double up as a training aid. The dimensions of the line have been developed in collaboration with professionals and teaching pros and now perfectly meet your putting needs.
OUR RATING 9/10
Vice Golf have produced a great family of golf balls and I am extremely impressed with the results. They have taken into account every golfer and designed a ball to suit every type of player. If you have been looking to try a new ball but not wanting to pay high prices, give VICE a go!!
I will certainly be using the Pro model from now on as it performed really well and i was extremely impressed wight the results.
THE VICE GOLF BALLS ARE GERMAN ENGINEERING AND MODERN THINKING/DESIGN PERSONIFIED, THEY ARE A MUST TRY!!
We will be doing our in depth review of each model soon in Part II of our review. But if you cannot wait that long take a look at their website for more details!